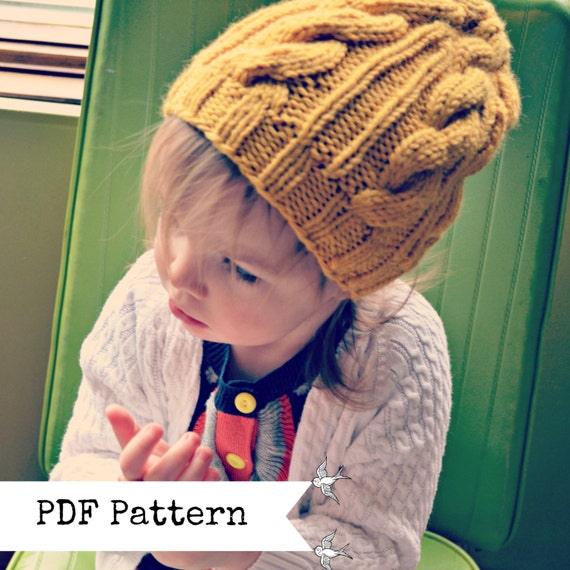 The Hipster Toddler Girl Cabled Slouchy Hat Pattern is finally listed in the Lace and Yarn Etsy shop!  I love making these hats!  It's such a fun project and rewarding, because it's so cute to see it on a little girl!  The photo above is of my two-year-old son's "girlfriend" (his term), miss Frankie B.  Isn't she adorable in this hat?
I recommend this pattern to any beginner to intermediate beginner knitter and up.  I only say intermediate beginner knitter because of the cabling, which can be intimidating if you've never done it before!  I remember my first cabling project, and the realization of how easy it actually is!  So, if you've never cabled before, you can do this!  Really!  I learn by watching, so I recommend watching a YouTube video of someone doing any type of cabling to see it done, then get a cabling needle, and get to it!  Never cabled before and need cable stitch holders (I call them cabling needles)?  I have ones that are very similar to these Clover Cable Stitch Holders
 that I like.
For this pattern the knitter should also be familiar with reading a pattern, knowledge of simple stitches and knitting techniques, and working in the round.  Nothing too complicated.
The pattern is specifically for toddlers (defined as approx. 1-3 years of age).
I like to use Berroco Vintage Chunky
yarn when making this hat (pictured in gold — color 6121), although any soft "bulky" yarn will do.  But don't go too bulky or the hat will not be toddler sized.
Want to make this hat to sell it?  I'm OK with that.  As long as you do the following:
If selling online, please include the following: "Original pattern by Lace and Yarn by Betsy Busch available at www.laceandyarn.com."
If you sell on Etsy, please include the following in your listing: "Original pattern by Lace and Yarn by Betsy Busch available at laceandyarn.etsy.com."
I'm, of course, not OK with you distributing or selling the pattern.  For personal use only, please!
Making this hat?  I'd love to see it!  Also, I'm happy to answer any questions you have about the pattern.  Comment below or send me a message via Etsy.
Find the hat pattern listed in the Lace and Yarn Etsy shop or by clicking here.