The "Ready to Pop" baby shower theme is a popular one.  And for good reason, it's cute and can be interpreted in so many different ways and styles!  This particular "ready to pop" shower was for my sister-in-law, Heather.  I can't take credit for a lot of the cute DIY items at the shower, but I can tell you all about the DIY items I did contribute, and all the fun details.
Table Centerpieces
The table centerpieces consisted of either a diaper cake or champagne bottle with balloons, colorful dot confetti, and of course the favors (more info on favors below, keep reading!).  My sister-in-laws sister made all of the diaper cakes, and she did a great job!  I am no diaper cake queen, but I'm sure there are tons of YouTube tutorials out there.  I think the ribbons in the matching colors did a lot for these cakes.
Games
I love shower games.  Whether it's a baby shower, or bridal shower, I just love them.  We played quite a few at this shower!  Games are fun to get each member of the planning committee to stand up in front of everyone and do something.
In the top photo, the white circle on top of the stack of papers was for guessing the size of the belly game.  Simple and fun.  I have a 3″ dot die-cut, so I cut out enough for each guest and stamped a cute pregnant silhouette on it (that you can see throughout the rest of the shower, too).  Guests wrote their guess down in inches and we measured Heather's belly and the top 3 guesses won prizes.
The green striped paper was actually just an envelope.  We had each guest address their own thank you note envelope.  One less thing for the mother-to-be to worry about!
The next blue paper was for guessing how old the "mommy" and "daddy" are in the photos. We set up a table on the side of the room with photos of both "mommy" and "daddy" from baby age up through teenage years.  The guests loved this game!  We had the Mother's go over the answers for a personal touch, and of course, gave out three prizes to winners!
The next game in the stack was a non-prize game, Birth Story Mad-Libs!  You can find a lot of different wording for this game online, but I particularly liked the wording from this cute shower.  I think I changed a few things around, but the same idea.  We had a few volunteers read their paragraph out-loud and then I collected whoever wanted to turn it in for Heather to enjoy later.
Our last game was guess the age of the candy.  Guests had a worksheet with a timeline on it and had to list the correct dates for the start of each candy.  The winner from this game got a large basket of all the candy in the game (great prize!).
The second photo is of my lovely sister, Annie, leading one of the games.
Favors
What's a better favor for the "ready to pop" theme than popcorn?  I say nothing!  I love getting edible favors at parties!  We stuffed bags full (no really, about 2 and a half cups of popcorn per guest, it was a little ridiculous!) of carmel and butter popcorn from the Pittsburgh Popcorn Company.  We put the popcorn in a clear favor bag*
, twist tied it, and put it in a bigger colored favor bag (like these*
in blue*
, orange*
, and green*
).  The favor bags were decorated with decorative scissors at the top, and ribbon and favor tags that read "thanks for popping by!" and I made the favor tags.
Although I don't sell favor tags in my Etsy shop, I do sell muslin favor bags with a "thanks for popping by" stamp on it.  My bags fit one cup of popcorn in them nicely, which I think is more the appropriate amount for a favor.  Check them out!  I can stamp them in other colors and customize.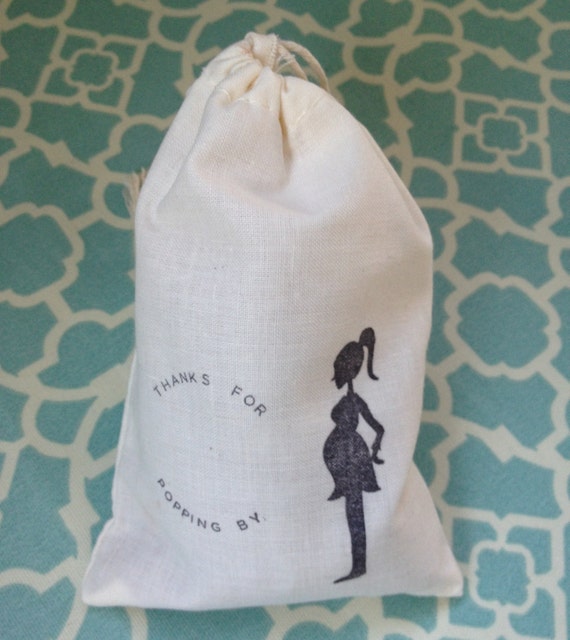 Dessert
The ever important dessert table!  Adorable, right?  I contributed the "Ready to Pop" banner and the lollipop trees.  My sister made the adorable baby (and blue and green) cake pops, and Heather's sister made the chocolate covered oreo pops and chocolate mold pops.  Don't they all look so yummy!
I printed the banner from these awesome letter templates from Shanty 2 Chic.  I printed them on card stock and then used them as templates to cut out larger backgrounds in coordinating blue, green, and orange patterned scrapbook paper.  Notice the pregnant silhouette shows up there again!
The lollipop trees took me a lot longer than I though they would!  I used topiaries (like this: topiary form*
) and a larger generic flower pot.  I used both small*
and large tootsie pops*
 (take note, you can get tootsie pops in specific colors to match your theme perfectly!*
), and filled the top ball (which took a long time!).  But well worth it.  If I had to do it again, I'd do two balls the same with all big tootsie pops — although the small ones were cheaper because I only used one bag of those, and I think four of the big ones.  The bottoms of the topiaries were decorated with just white crinkle cut paper
* and matching ribbons.
Game Prizes!
Happy Baby Shower Adam and Heather!
I hope you enjoyed the beautiful photos from Heather's "ready to pop" baby shower!  Most of the photo credit goes to my brother, Adam.  Thank you!
Planning a "ready to pop" shower?  Check out my shop for coordinating items!  And yes, I take custom orders, just ask!
*This post contains affiliate links, see the privacy policy and disclosure for more information.