These adorable Ahoy Navy Anchor Baby Booties by Pleasantly Plump Knits are available via their Etsy store.  Aren't they adorable?  Can't you just picture them on a little one's tiny feet?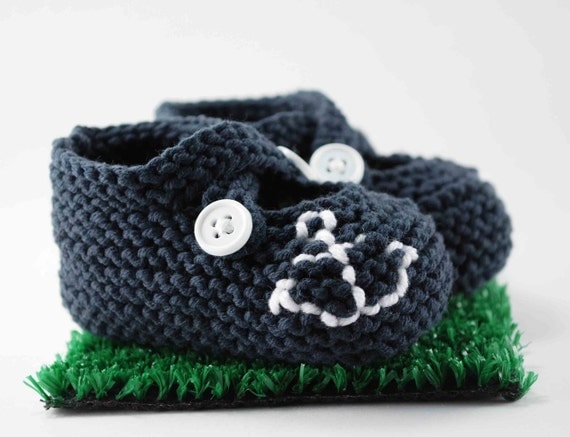 I wish I could make these booties myself.  Until I master booties, I will be buying these cute little ones for new babies.
I have not attempted full baby booties, yet.  I love making hats, and I'll do anything flat.  I made a pair of "booties" (and I use the word booties loosely) that are basically made flat and sewn together.  This is the free pattern I used: Knit No Button Baby Booties on Ravelry.  Although it's not an easy pattern to figure out if you've never made booties, it's not that bad.  If you're afraid of booties (like I am for no apparent reason), it's a good pattern to start at.  I do have lots of cute bootie patterns to try saved in my Ravelry favorites.
Do you have a go-to bootie pattern?
Are you also afraid of knitting booties?
Do you have any other raves as to how cute these booties are?
Please share…